Fivewood.vip
Stark Infinity Gauntlet - Limited Edition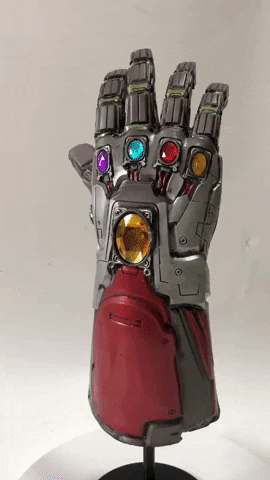 AVENGERS: ENDGAME PREMIUM ROLEPLAY ITEM: The intricately detailed design of this electronically articulated Power Gauntlet is inspired by the Avengers: Endgame movie, part of the Marvel Cinematic Universe
PULSATING INFINITY STONE GLOW LIGHT EFFECT: This electronic fist appears to teem with tremendous power. When activated, the Power Gauntlet's 6 infinity Stones pulsate with glowing light.
AVENGERS: ENDGAME MOVIE-INSPIRED SOUND EFFECTS: Pushing the Infinity Stone at the center of the Power Gauntlet activates sound effects inspired by the Avengers: Endgame movie.
FIST-LOCK DISPLAY MODE: The Gauntlet's highly articulated fingers can be locked in a clenched fist position, allowing the item to be displayed in an appropriately powerful pose.