Fivewood.vip
Hula Hoop Detachable That Won't Fall with 360 Degree Massage Function
Description:
Easy for Beginners. Adjustable hula hoop to fit your waist perfectly. 

Won't fall -It's a professional hula hoops for adults and kids, great for core exercise and shaping the waist line.

Hands Free Fat Burning - 30 minutes a day to strengthen your Waist.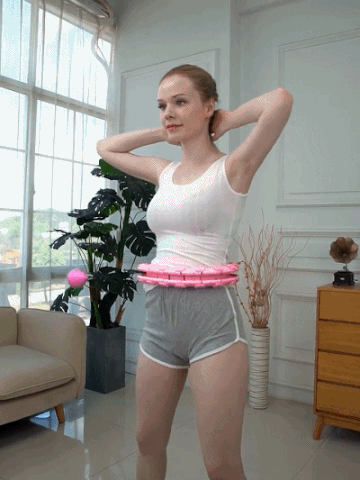 FEATURES:

Never Falling Hula Hoop:


Uniquely designed to stay on your waist and keep auto-spinning all the time, which allows you to enjoy this calorie-consuming aerobic exercise without any difficulties.




3X Faster Fat Burning:
Features the centrifugal ball that only requires a little force to get 3 times stronger calorie burning result. Burns up to 800 calories for a 30-minute workout 5 days a week. 


Slimming Waist Trainer:
An always spinning hula hoop to strengthen your waist, shape perfect waist line as well as losing weight, giving you a sexier silhouette. 
【Safe Materials Used (PP+NBR Form)】. Made of a safe and comfortable extra-thick form padding and a waist belt. Top quality materials prevent from any injuries. Keep perfect body balance.
【Suitable For Any Group Of People】Suitable for all skill levels from beginner to professional, the number of parts required to adjust to your waistline.The hula hoop is the easiest and most fun way to exercise, burning fat, making the waist slim, suitable for aerobics and dancing, helping to lose weight and getting the most relaxing results.
【Detachable Design】Consisting of 18 detachable parts, Detachable with a simple push of a button.you can choose your own hula hoop according to your waistline. hula hoop can be adjusted to 15 to 18 sections according to waist. The sections are easily detached, making it easy to store. The package includes 18 detachable sections
【Easy To Use And Assemble】360° surround, turn the weight ball, hula hoop will not fall. Balanced weight so anyone can easily carry around for travel. Easy to assemble.